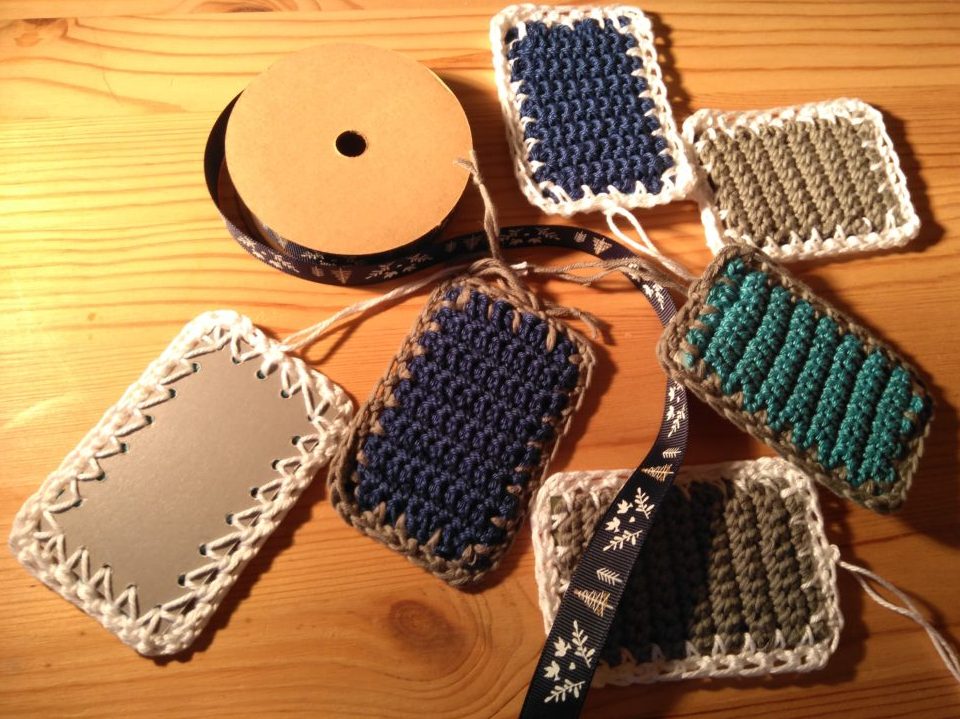 Some of my Christmas presents are now ready and therefore I need to get the 'to and from' cards ready. These crochet 'to and from' cards are made out of leftover cotton yarn in grey and blue colours. A piece of card is placed on the back so you can write your wishes. The card is leftover from my Christmas cards. When you cut A6 cards there is always a thin strip of card left which is perfect for 'to and from' cards.
'To and from' cards – DIYs:
Cut a piece of card 5×8 cm
Make holes along the edge (appx 0,5 cm from the edge) with 1 cm separation (I have made them with a 3 mm diameter)
With a crochet hook no. 3,5 make 10 ch
Make 9 dc in the first 9 ch
Continue with dc rows until the length fits your card (I make 8 rows for mine) always turn with a ch
Finish the crochet
Hold the card and the crochet together
Crochet the pieces together with a hook no. 2,5 starting in the middle of one of the short sides
Make two ch around each corner
Having finished the round continue with another round of dc. In each of the corner ch make two dc
Finish with a sl st and tie the two ends together. This will be the sting you use to attach the card to the gift
The crochet 'to and from' cards are super easy to make and I think they look great on the gifts. I guess I have mentioned earlier that I like when the gifts look good before they are unwrapped.